Vision centers in the veterinary field tackle intricate procedures that require precision, expert knowledge, and impeccable coordination among the team. Instinct EMR became an integral part of Vet Vision Center's operations from day one, aiding the whole team in providing superior eye care to companion animals.
We spoke with Carol Fitzpatrick, CVT, and practice manager at Vet Vision Center, about her experience building a state-of-the-art vision practice with Instinct as its patient control center.
About Vet Vision Center 👁️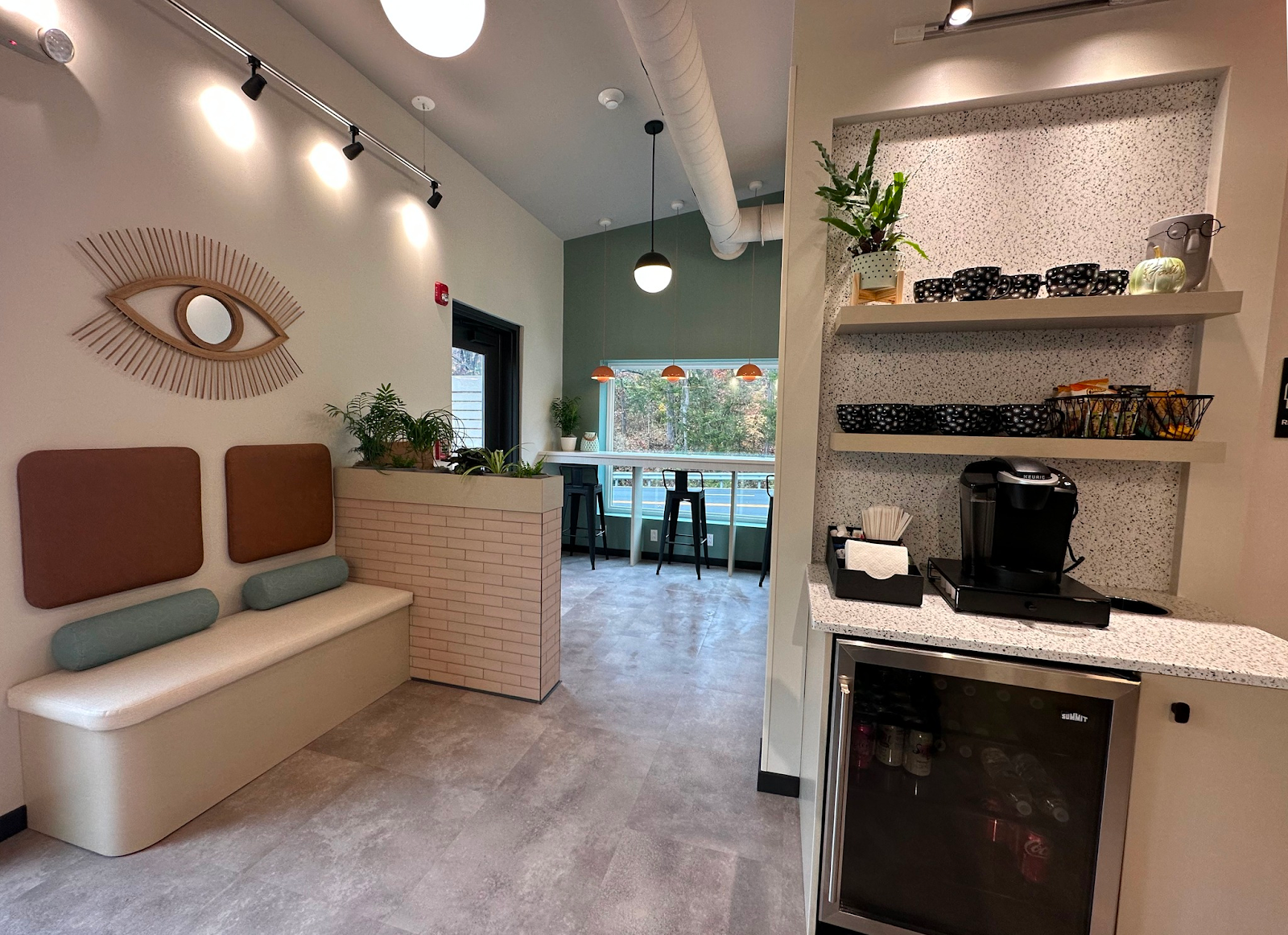 Shelby Reinstein, MS, DVM, DACVO, founded Vet Vision Center in 2022 to provide exceptional eye care for pets and an elevated visit experience for pet owners. She envisioned a practice at the forefront of technological advances, prioritizing an enhanced client experience. Attention to aesthetic detail is a defining characteristic of the center, as every design aspect is intended to maximize comfort for patients and pet owners.
Knowing that most visitors come worried about their pets, the center aims to provide a calm, reassuring atmosphere without the traditional white coats that some pet owners find intimidating. It's a place where clients can breathe a little easier, even when they're concerned.
Vet Vision Center realizes Dr. Reinstein's long-held dream to establish her own specialty practice after spending years in a large corporate setting at BluePearl. During her time in corporate practice, she met Carol Fitzpatrick and Instinct founder Dr. Caleb Frankel, who brought in the first version of Instinct's digital treatment sheets for BluePearl to test.
"We all knew then that Instinct was the forward-thinking pioneer designed to replace the needless complexity of older platforms, and it was a super easy transition there," said Carol.
It should come as no surprise that a few years later, Dr. Reinstein and Carol chose Instinct's EMR platform as their practice management system for Vet Vision Center.
"It's been so nice to see Instinct go from just digitized treatment sheets to an increasingly powerful EMR—including the treatment sheets we all were familiar with," said Carol. "I can tell by the number of product updates and what they are about that Instinct is really listening to its customers and constantly making adjustments. From changing how deposits are made and making invoicing and refills seamless to expanding business analytics and larger features, Instinct is constantly making upgrades. I feel like Instinct and I are growing together as I step into this practice manager role."
Building Vet Vision Center's Daily Operations Using Instinct EMR
Ahead of going live with Instinct, Dr. Reinstein and Carol worked with Instinct's implementation team to start the onboarding process and get their team up and running.
"We had a brand new team of employees, most of whom had no experience with Instinct and little experience with ophthalmology," said Carol. "The Instinct pre-training provided to our team prior to opening our doors allowed us to focus more on getting to know each other as colleagues and coworkers instead of stressing over a new system. Getting Instinct up and going was the easiest thing we did while opening our doors."
Once their unique Instinct application was available (and loaded with their ophthalmology-specific product and medication lists), Dr. Reinstein and Carol went through administrator training, where they customized the rest of Instinct's features. There was a lot of focus on setting up templates for different documentation (through Instinct's Business Office templates), loading in product groups, and setting up appointment scheduling to help them streamline their day-to-day.
"Learning the business office functions took a little bit of time," said Carol. "For instance, for the appointment templates to be correct, we really had to decide on details upfront. How long will appointments be? What days will be procedure days? How many slots do we want for procedures? What time is the first appointment and the last appointment? All essential questions that had to be decided so that Instinct was useful on day 1."
Instinct's implementation team built all of these items prior to launch, and the simplicity of making adjustments has empowered Carol, Dr. Reinstein, and their whole team to experiment with new ideas for further ease, continuously fine-tuning their customizations to make their lives easier.
Now, Carol and the staff at Vet Vision Center are using Instinct on a day-to-day basis. In her words: "All the time, every day, for everything we do—scheduling appointments, checking people in and out, for full medical records history, logging phone calls, chat features… everything."
Safety First: Elevating Patient Care
For a new practice, particularly with a new team and some staff members with less experience, patient safety features are absolutely essential.
"Instinct's patient safety features have had the biggest overall impact on our team," said Carol. "We all hate talking about it, but the last thing anyone wants is a medication issue. Drug calculators and accessing Plumb's straight from Instinct are game-changing."
While they were seeing 2-3 appointments per day in their first couple of months, they're up to about 20 appointments a day in addition to procedures.
"As you can imagine, this busyness can make things feel a little crazy, but Instinct allows our team to adapt to growth and communicate across the hospital," said Carol. "The whole team is using treatment sheets for both inpatient and outpatient workflows, as well as On-The-Way. Once the initial intake procedures occur at the front desk, patients are moved to the Outpatient Board, where nurses in another area of the practice keep track. This whole flow allows us to keep a closer eye on all patients."
Capturing Charges Without Missing a Beat
Every veterinary practice struggles with missed charges. During the initial days of opening their doors, the Vet Vision Center team knew it was probably happening to them, too. Nurses enter charges between appointments and procedures, but in the rush of the day, it's not uncommon for something to get lost. Their front desk staff had been using travel sheets to try to catch missed charges, but now with their entire practice on Instinct, they use Instinct's system to automatically capture treatments completed in customer invoices.
Analytics and Reporting with Instinct
At the end of each day, Carol reviews transaction summary reports and practice summary reports to get an overview of revenue, income, patient visits, average client transaction, and income per hour.
"Instinct's financial reports provide me with essential data to understand how our business is running in a clear, uncomplicated manner," said Carol. "And some unexpected bonus data I have is the breakdown by breed. We can track the number of visits and transactions by species and breed. For example, we can easily see if we've had two Yorkies or a golden retriever in a day. Some breeds, like Boston terriers and boxers, are more prone to issues and therefore visit us more frequently. This is data that might aid us in planning our care strategies for different breeds in the future."
Quick-Fire Questions with Practice Manager Carol Fitzpatrick, CVT
Questions have been edited for clarity and length.
Instinct: How would you describe our product to a friend or colleague?
Carol: Instinct is the primary platform that helps me do everything I need to help our practice run smoothly. It's easy to get up and running, new staff members can learn how to use it, and it's intuitive. In my day to day, it helps us keep track of patient visits, patient history, procedures, appointments, and finances—and at the end of the day, it makes my life easier. Other administrative tasks in veterinary practices are dreadful without Instinct.
Instinct: What's been your favorite part of working with Instinct?
Carol: First off, the chat feature where we can instantly talk to an Instinct representative when we have a question. Our requests for improvements get an immediate response. Secondly, we love how easy it is to refer customers to other practices. Sending directly through Instinct via comm logs is super lovely! Billing and charge capture are great, too. And, of course, the little daily quotes—it's a moment to enjoy a joke or take our minds off work.
Instinct: What would your practice be like without Instinct?
Carol: It would be complicated. In other practices, I've used Avimark, Cornerstone, and DVMAX, and they just pale in comparison. Instinct is in a league of its own. With every other platform, we experienced downtime in the middle of the workday. Rapid registration, scheduling, and business office features are essential for me every day, and Instinct is super reliable.  
Instinct: What advice do you have for others considering Instinct?
Carol: Keep it on your list, and be open to the change. Instinct is worth a second and third look. I've worked with Instinct in both a very large practice and a small new practice, and I've found teams were equally successful with it in both places. There's something here for everybody.
---
If you're curious how Instinct Treatment Plan or our complete EMR platform could support your practice, reach out and request a demo.