At Instinct, "work smarter" is a constant goal. Our primary reason for existing, after all, is to help streamline operations in state-of-the-art veterinary hospitals.
So whenever possible, we seek helpful digital tools to improve our own productivity and communication, making even the most tedious tasks as easy as pie.
And recently, we've been asked, what helpful tools does the Instinct team use?
So by request, here are a few of the smart workflow and communication tools we use (and love!) at Instinct, and how they can help your veterinary team.
🤝 Manage Tasks as a Team With Asana
Asana is designed to improve team collaboration and work management. This tool helps our teams manage tasks, assign work to teammates, specify deadlines, and communicate efficiently.
How We Use It
Any new projects—like installing Instinct at a new veterinary hospital (we call this a 'go-live') or pulling a fresh data request—is created in Asana and shared with the team. This way, it's clear who is involved, who is owning the project, and what due dates have been set.

🗄️ Organize Documents and Collaborate in Notion
Notion is an online workspace where you can write, plan, collaborate, and get organized as a team. And yes, it's different from Asana. Where Asana helps with task management, Notion helps you manage knowledge and documents and promote collaboration.
How We Use It
We store all of our internal knowledge documents in Notion. This includes onboarding information for new team members, emergency contact information, guidelines and policies, and general FAQs for our growing team.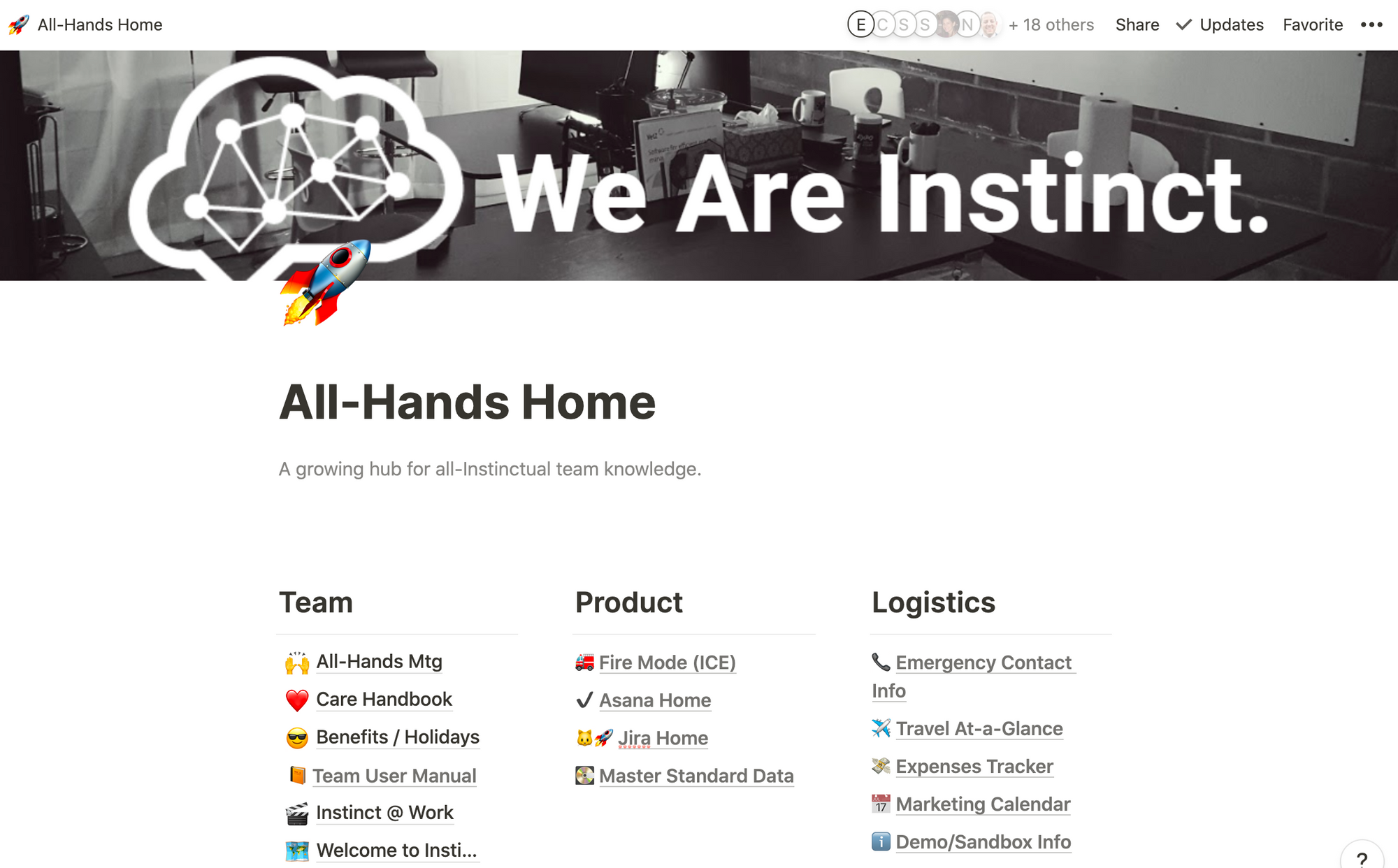 ⚙️ Plan and Track Product Releases With Jira
Jira is designed for teams to plan, track, and manage software development projects. You may be thinking (again), "this sounds a lot like Asana..." However, if you dive a bit deeper, you'll notice Asana focuses more on team task management, while Jira specifically helps software development teams plan, document, test, and track new software releases.
How We Use It
Our development team uses a kanban board in Jira to organize new projects and feature releases. This ensures all our processes (eg, ready for testing, QA testing, regression testing, ready for deployment) are completed accurately, even while we're rapidly improving. Plus, we have a digital paper trail of progress, so all questions, answers, and notes are well documented for reference.
☁️ Store, Share, Communicate, and Collaborate With G Suite
G Suite, formerly known as Google Apps for Work, is Google's set of essential tools for running a business. It's what we use to email and easily store and create all kinds of documents. It's like Microsoft Office, but more modern and easier to use.
G Suite comprises Gmail, Google Meet, and Calendar for communication; Drive for storage; and Docs, Sheets, Slides, and Forms for productivity and collaboration, and more. Like many tools listed in this article, G Suite can also integrate other applications (typically called "Add-Ons") so you can customize your workflow and experience.
How We Use It
We use Gmail for our email service, so it makes sense to use all of the great tools that come with it to improve productivity and organization. For example, we use Calendar to manage meetings, Drive to co-edit and review documents as a team, Slides to co-create slide-based presentations, and Forms to identify areas for improvement after go-lives. G Suite makes it super easy for us to stay organized as a team, especially because we all work remotely.
💬 Communicate With Anyone About Anything in Slack
Slack is a business instant messaging system that includes dozens of integrations with other workplace tools, like Google Drive, Google Analytics, Asana, and more. Remember chatting on AIM/AOL back in the day? This is similar, but way more powerful.
Slack allows you to have private chat conversations, connect via voice and video chat, and create internal company group chats. For example, at Instinct, we have a culinary group chat for those who enjoy cooking. It's been a great way to take a break from work talk and share our favorite recipes. Plus, Slack can integrate with more than 1,500 apps. So if it can't do something you need it to do, there's probably an integration that can.
How We Use It
Slack is our main communication tool and allows us to chat with each other constantly via text, voice, and video. Plus, we can even share our screens if needed. We also have several apps integrated to monitor server health, streamline customer support chats, and integrate project updates from Asana.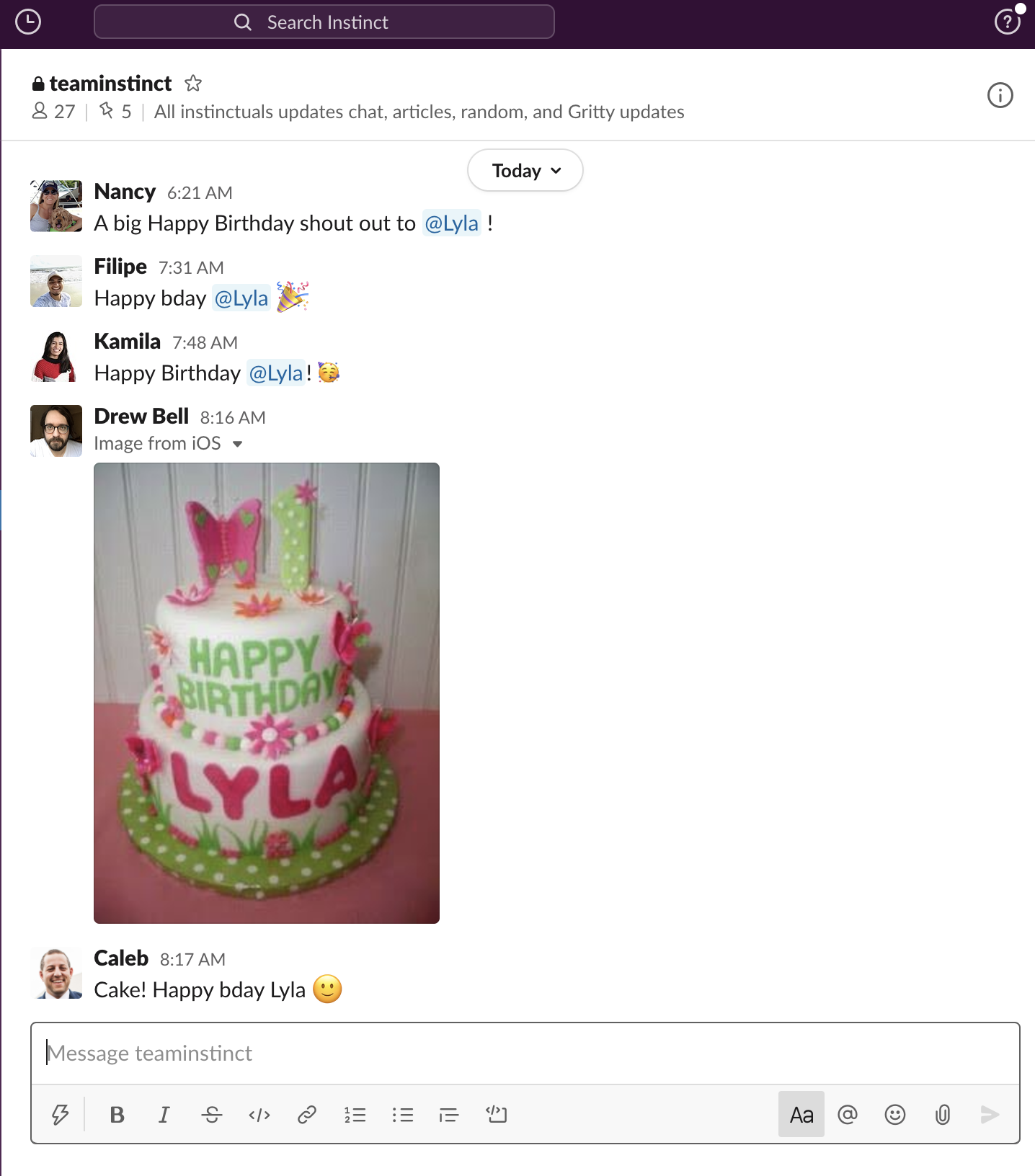 ✈️ Manage the Team's Travel in TripCase
If you travel for work (or at least plan to, post-pandemic), TripCase gives you a single place to easily manage all the details of your trip, including flights, hotels, and rental car information. As flight schedules change, you're notified directly on your smartphone or via email.
How We Use It
When we travel for a go-live or to attend a conference, we can find our itinerary in the TripCase app. This makes it super easy to double-check flight numbers, rental car confirmation info, and important addresses, like our hotel or the veterinary hospital we are visiting.
🎥 Connect Face-to-Face From Anywhere With Google Meet or Zoom
Social distancing created a huge demand for video conferencing programs like Google Meet and Zoom. Whether you're video-calling for work (check out our Veterinary Hospital Video Call Pro-Tips) or for fun (Host a Virtual Get-Together for Your Team), the choice between these two programs is largely a personal preference. They both do a great job connecting you to others with optional features like sharing your screen or controlling someone else's (super handy for troubleshooting issues or helping my mom find pictures of her garden that she saved somewhere on her laptop in 2016).
How We Use Them
During the pandemic, we've used Zoom for our virtual go-lives. It has proven to be easy and intuitive for all users. Even though we can't be there in person, we're able to video chat with hospital staff and watch them build treatment sheets in real time by having them share their screen with us.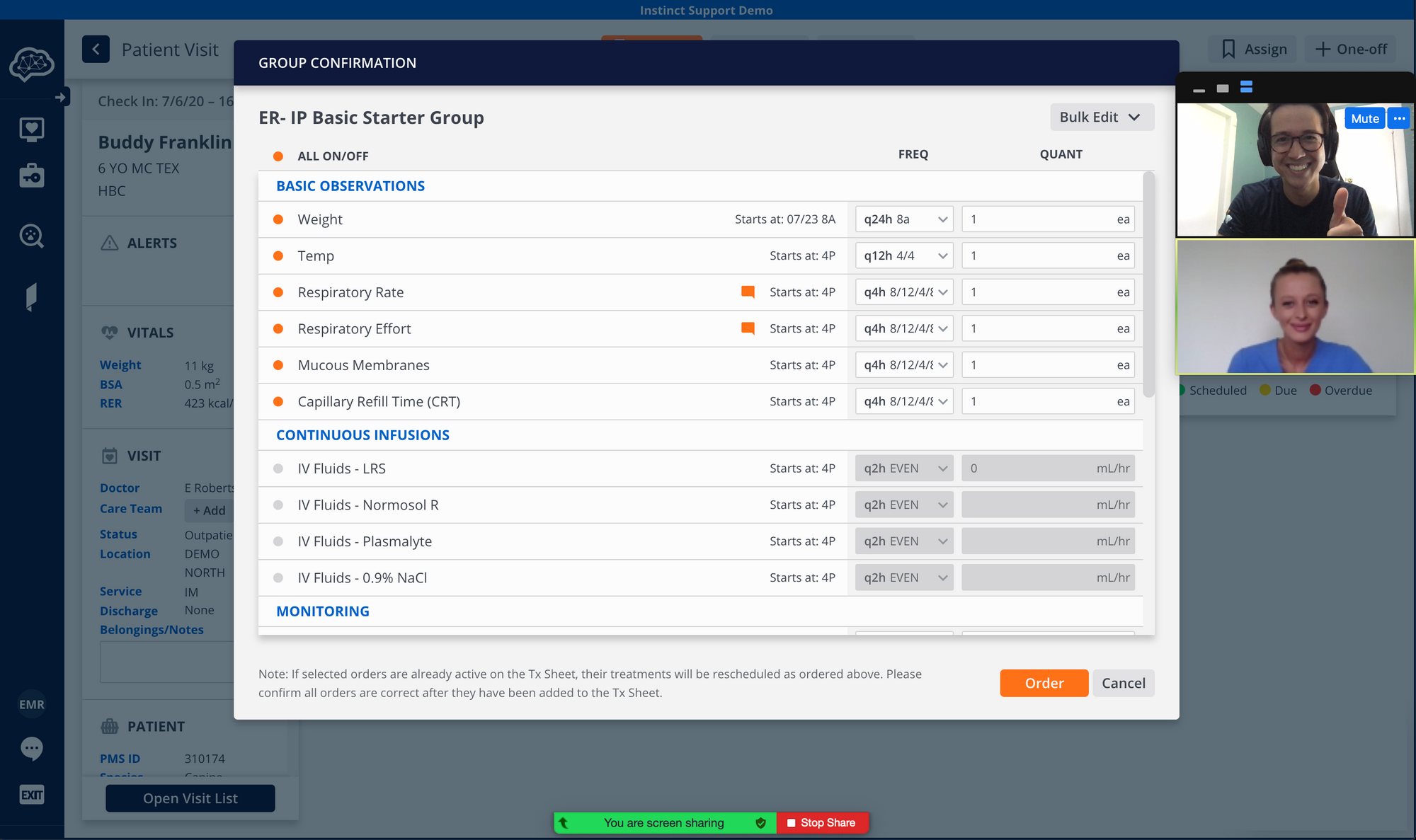 ✍ Start a Blog With Ghost
Ghost is a free blogging platform designed to simplify the process of online publishing for individual bloggers and online publications. In layman's terms, Ghost helps newbie bloggers get up and running, without all the complicated features and settings you might find on Wordpress.
How We Use It
You're looking at it! We use Ghost for all of our Pick the Brain articles. It's simple, intuitive, and easy to use, and it helps us focus on the important part: writing good, helpful content for you.
📤 Send Emails to Your Client List With Mailchimp
Mailchimp is an online email marketing program that gives you the ability to create and manage mailing lists, newsletters, and automated marketing campaigns. It's an extremely intuitive program, and you can create your own email templates or use premade templates they have available for you.
How We Use It
We use Mailchimp to inform all of our customers of new releases, the latest blog posts, and general announcements.
👩‍💻 Easily Build a Website With Wix
Wix is a website-building program that allows users to easily create websites using drag/drop features and premade templates. Seriously, you'll be amazed at how simple it is to create a custom, professional website without any coding experience.
How We Use It
Surprising to many, we created our current website with Wix (and we like to think it looks pretty awesome, too). Wix is particularly great because it's easy for nontechnical team members to maintain and update content, and with a bit of learning, it can be customized to the max.
---
These are just a few of the tools we use to improve our processes and stay organized at Instinct. A few takeaways for your search:
Explore all the options (or at least the top 3). There are a lot of programs out there to choose from, but chances are one will work better for you.
Before implementing a new program or tool, consult with your team (ideally those who have previous experience or will be using it).
It's okay to change programs and protocols down the road based on growth/team dynamic, but try to keep this at a minimum (which makes the first two points so important).
Keep these tips in mind and you'll be one step closer to improving organization and communication with your team. 👍