At Instinct, we're grateful to work with some of the world's top emergency and specialty veterinary hospitals—so we know how challenging it can be to get a clear picture of the trends in this important corner of our industry. We constantly hear that the bulk of veterinary surveys have brought valuable perspectives over the years, but they don't quite hit the mark for our emergency and specialty community.
So, we surveyed more than 250 professionals in emergency, specialty, and urgent care practices to better understand how hospitals are addressing the industry's biggest challenges, enhancing productivity, evolving their hiring and team structure, and advancing technology in 2023.
In our inaugural report, "The State of Emergency & Specialty Veterinary Care in 2023," we're combining insights from years of working in the trenches of emergency and specialty veterinary centers with real data. The study offers a close look at how emergency and specialty veterinary hospitals are evolving amid cascading challenges, and sheds light on some exciting opportunities for growth in this key sector.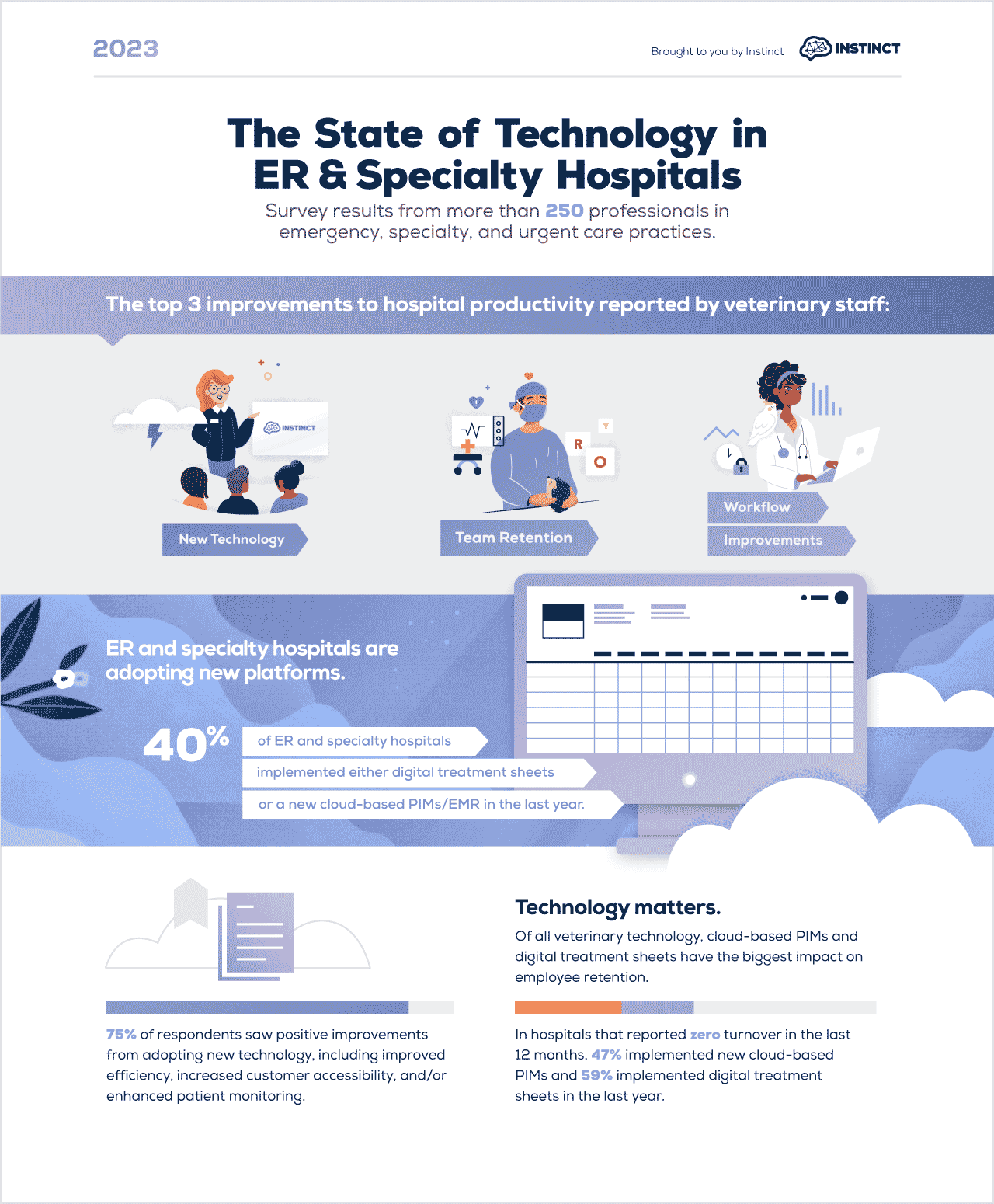 Staffing Challenges and Mental Health
Let's start with the elephant in the room: We already know staffing shortages are pervasive across the veterinary landscape. A whopping 86% of emergency and specialty hospitals reported staffing shortages as their top challenge of 2023, right beside 83% of staff impacted by mental health challenges. Add in a 54% surge in patient volume this year, and we have a perfect storm on our hands.
Our survey shows more than half of nurses/technicians alone are experiencing mental health challenges and work–life balance concerns, indicating an urgent need for employers to go beyond recommendations for individual self-care strategies and consider initiatives that target work schedule, time off, and wellness.
Innovations on the Rise
To tackle the staffing crunch, more than half (52%) of hospitals surveyed have hired relief veterinarians, and 67% are doubling down on overtime to keep things running smoothly.
To cope with the ever-increasing workload, many emergency and specialty hospitals are turning to technology to streamline operations. They're embracing digital treatment sheets (38%), switching to cloud-based PIMs/EMR (36%), and adopting client communication platforms (32%), with impressive results.
Leading the Charge: Urgent Cares and Smaller Hospitals
Guess who's leading the charge in shaking things up? Urgent care and smaller emergency hospitals! They've been the trailblazers when it comes to revamping workflows, adopting the latest technology, investing in staff training, offering employee wellness days and other benefits, and tweaking their pricing structures.
Shifting Gears in Vet Careers
With increasing demand and widespread shortages of veterinary talent (83% of respondents reported a shortage in qualified candidates), it's no surprise that it's an employee's market across veterinary care. Veterinary professionals are changing jobs more frequently, knowing that salaries and benefits are climbing, relief work is offering competitive compensation and lifestyle, and better work–life balance is possible.
Emergency and specialty hospitals are hiring technicians, veterinarians, and administrative staff 5x more than they are reducing staff, pointing to the growth trends in ER/specialty care.
Respondents reported that technicians/nurses have been the most challenging roles to hire and retain. The majority of respondents (83%) reported that veterinary technicians/nurses were impacted by employee turnover at their hospital, while 68% of hospitals hired additional technicians/nurses in the last year. 
Technology, Team Training, and Mental Health Days: The New Benchmarks for Success
More than any other factors, the survey found that team expansion, technology-related investments, and time off for mental health and wellness have the strongest correlation with higher employee morale and retention rates.
Hospitals that are adopting new technology are seeing significant positive improvements: 75% of hospital staff report that new technology is making their jobs easier, boosting efficiency, and improving patient care.
Hospitals that implemented new technology in the last year and provided time off for mental wellness days saw 10-15% better employee retention rates.
Despite the impact of technology on efficiency, client accessibility, employee retention, and patient monitoring, the majority of respondents expressed that hiring more nurses/technicians (71%) and investing in better training processes (66%) would be the most impactful actions to improve their productivity today. There may be several reasons for this. In part, 40% of respondents have already adopted a foundational new technology in the past year and are shifting focus to training. For other hospitals, the compounding challenges of increased busyness and staff shortages can make some teams hesitant to bring on new technology, fearing steep learning curves and further interruptions in already full schedules.
Urgent care employees rated their team morale significantly higher than any other hospital type surveyed, with 80% rating morale high or very high compared to 37% for emergency-only practices. Notably, urgent cares are leading the way in offering mental health and wellness days and implementing state-of-the-art solutions.
Cloud-Based PIMs and Digital Treatment Sheets Steal the Show
Of all veterinary technology, cloud-based PIMs and digital treatment sheets have the biggest impact on employee retention. In hospitals that reported zero turnover in the last 12 months, 47% implemented new cloud-based PIMs and 59% implemented digital treatment sheets in the last year.
We're seeing that the right technology paired with ample training and work/life balance is the ultimate recipe for happier employees and reduced turnover.
Curious whether Instinct Treatment Plan or Instinct EMR is right for your team? Request a demo.