Last updated 3/19/2020 9:10PM ET with new information.
---
Yesterday I wrote about Novel Coronavirus and a Survival Guide for Veterinary Hospitals. Thanks for all of your contributions and feedback. We'll keep updating it in an effort to help.
Now I'm getting a frequent new request: "Can you help my team serve our clients using telemedicine?"
Confession: I'm no telehealth or legal expert. But a few years ago, I helped lead a Veterinary Medical Association Executives (VMAE) workshop exploring the future. These workshops are where the executives who lead all the state-run and company "associations" explore decisions to protect and prepare the veterinary industry.
That year, we spent 48 hours brainstorming the topic at hand: telemedicine.
A lot of terrific progress came from that workshop, and the AVMA in particular should be commended for taking the lead.
My view from the trenches is that very few veterinary hospitals are equipped for basic telemedicine that could help them. For obvious reasons, many need to change that right now.
The information below isn't comprehensive, but it is a practical start. I hope it helps your hospital get up and running with some basics on telemedicine today.
📞 Telehealth and Telemedicine Are Scary Words
They don't need to be! Obtaining a poison control consult counts as telehealth, and we've done that for years.
Instead, ask yourself how you can help your staff provide—and your patients and clients receive—care from a distance?
🤔 What Would I Use Telemedicine For?
Many of you are in regions where nonessential businesses may be shut down as we seek to slow the spread of COVID-19. But you have appropriately determined your veterinary hospital to be essential.
We're in uncharted territory here, but the fact remains: Pets still need care. So how do we do this safely while distancing from other humans?
Enter telemedicine.
Some of the hospitals I've been working with are doing the following:
Encourage rechecks on video instead of in person (unless needed).
Set up curbside prescription refills and food pickup.
Call appointments ahead of time. Explain that you are still open but need to practice safe social distancing.
Curbside patient drop-off: At arrival, clients hand their pet off to staff members who are wearing appropriate protective equipment.
Provide a link for clients to video conference with a staff member at a prearranged time (from home or the parking lot).
Hang a sign on the door with instructions for social distancing and other safety measures for walk-in appointments and emergencies.
Hand wash/rinse/repeat.
🚀 How Do We Get Started?
There's a lot to consider, and many telemedicine companies to research.
But with COVID-19 upon us, you likely don't have time for that.
The point of this is to keep things simple so you can keep your doors open. If I was running a veterinary hospital today, I would be doing the following.
📹 Video Calls
The main tool you need is a simple video chat service. You can certainly talk on the phone instead, but video is likely going to be important for engagement and more.
You could use something like Apple FaceTime or Google Duo, but there are complications—your clients need to have the right type of phone, and you may need to share your phone contact info.
There is a better and simpler way: video conferencing software. And I'll save everyone some research time: just use Zoom.
Zoom lets you video and audio chat for free in a pinch, and it has my favorite quality in a technology tool: It always just works. It's not necessarily HIPAA-compliant but that isn't necessary for us.
I'd recommend setting it up in a way that mimics your hospital setup. See the end of this article for detailed Zoom setup tips for veterinary hospitals.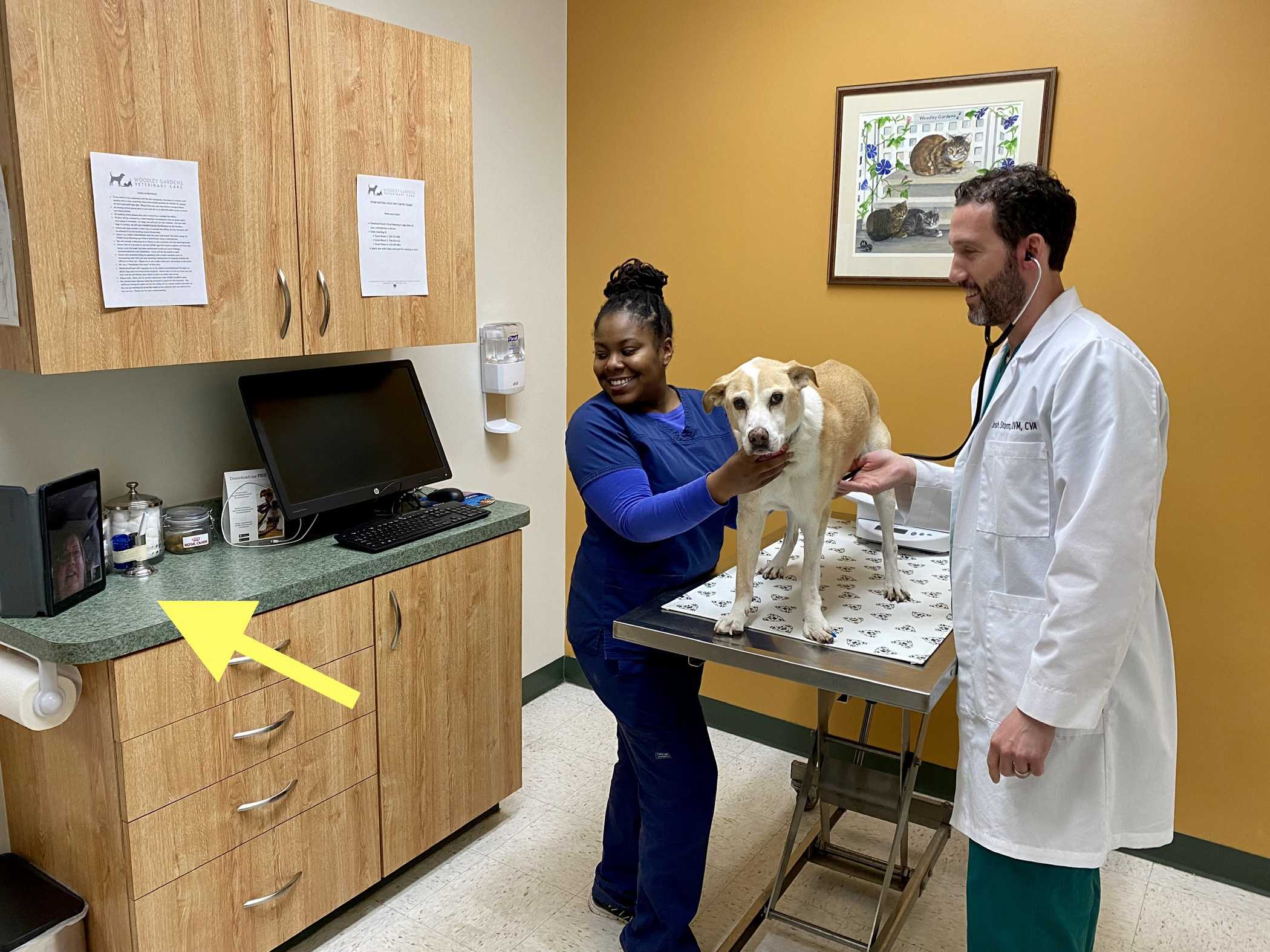 👨‍💻 Other Techy Tips
Need more help or troubleshooting? Zoom has a great help center.
Test things first. Go to fast.com to check your internet speed. Then do a trial run to work out all the kinks.
You can only have one Zoom room active at a time, but many people can join (husband, wife, cousin, etc). If you need more than one active room at a time, you'll want to purchase additional "hosts."
The free account for Zoom has a 40-minute limit. (You could jump back on with the client but to avoid the embarrassment, maybe just get a paid account.)
Looking for devices? Chromebooks are a great option. Just be sure to pick one with an Intel i5 or i7 processor. The others can be risky/underpowered.
💭 Telehealth Tips and Resources
Practice the same great care as you would in person.
Be extra thorough in taking histories.
Document the same way (or better!) as you would in person.
Refresh your memory about your state VCPR laws.
Coach your staff: Never diagnose or prescribe if a VCPR is not present. Be careful with the words "we recommend." And when in doubt, ask a veterinarian first.
Charge for your time. Make a new service code for these consults!
Questions about legality, VCPR, insurance, or all things veterinary telehealth? Start here: AVMA Veterinary Telehealth Basics
I hope this is helpful. Stay kind—we're all in this together. 🧡
---
Detailed Veterinary Hospital Zoom Setup Instructions
1. Go to zoom.us and set up a Zoom account (put your hospital name in as first and last name since this will display to your clients).

2. Click "Go To Your Account" and you'll see this.
Click "Settings" on the left. You'll want to tweak everything here first so that your meetings run smoothly.
Turn on Host Video and Participant Video so video starts by default
Turn on Join before host
Turn on Play sound when participants join or leave
Leave all other settings as they are
3. Optional: Turn on the Waiting Room setting. The pro is that it will prevent clients from popping into your rooms without permission. Think of it as your front desk gatekeeper. The cons are that someone must be logged into your new Zoom account to "room" clients, which could get in the way of quick/easy chatting. I've seen it done both ways!
4. Click "Schedule a Meeting" at the top. It's time to set up your "Exam Rooms" by creating meetings. These will be the meeting rooms you use for your calls with clients.
Name the Topic after your rooms. Exam Room 1, Exam Room 2, etc
Leave description blank
Important: Click the "Recurring Meeting" check box
Important: Choose Recurrence "No Fixed Time"
Keep settings as-is and hit Save!
Click "Meetings" in the left side and then "Schedule a Meeting." Then repeat for other Exam Rooms.
5. You are now ready to meet with clients! You'll see a list of your recurring meetings to give out. To start meetings, you'll need to give them two things:
The link zoom.us/join. Tell them to open their browser on any device (works on phone, tablet, computer) and type it in. If they are on a phone,  they will be prompted to download an app first.
Tell them to type in the Meeting ID you give them, corresponding to an Exam Room.