Welcome to the latest installment of our Pick the Brain interview series! In these interviews, we get to know some of the (many) incredible people who make Instinct possible—from our talented team members to the passionate professionals using Instinct software in their hospitals.
For this installment of our interview series, we got a special opportunity to talk with Instinct's director of medical operations, Lindsay Thalheim, VMD, DACVIM. Dr. Lindsay is a veterinary oncologist at Cornell University Veterinary Specialists in Stamford, Connecticut, where she lives with her family (and 6 pets).
As director of medical operations for Instinct, she is responsible for overseeing the medical team, and she plays an important role in creating and managing the medical content in Instinct Treatment Plan, Instinct EMR, and Instinct Scripts. That includes Instinct's Patient Safety Warning System, which encompasses several different peer-reviewed decision support features designed to help minimize the severity and frequency of medical errors in clinical settings and support Instinct users as they provide top-notch patient care.
We sat down with Dr. Lindsay to ask her about her path through veterinary medicine and find out how she came to be part of Instinct. Let's dive in!
Tell us a little bit about your veterinary and professional background.
I have always been intrigued by cancer as a disease, and I love that I am able to participate in translational research as part of what I do. (In a nutshell, that means I study new therapies in animal cancer patients with the goal of helping human cancer patients as well.)
Before applying to veterinary school, I worked in finance, which gave me a unique perspective as a veterinarian and allows me to think about solving problems in a different way. That's why I love being a part of Instinct and why I sought a job with this amazing company in the first place. 🙂
What was your dream job as a child?
I didn't grow up wanting to be a veterinarian the way a lot of us do. I always wanted to work in finance. I have no idea why, though—I think it was because I wanted to follow in my father's footsteps since I looked up to him so much. As I got older, I realized I had a passion for medicine and wanted to be a doctor. Since I felt I couldn't handle humans, I choose veterinary medicine!
Where would you live if you could relocate to anywhere in the world?
If teleportation was a thing and I could see my family and friends any time, I would want to live in Australia. It's such a beautiful country, and I'd love the opportunity to learn about the diverse wildlife and animal species there that we aren't exposed to in the United States.
How did you first learn about Instinct?
My hospital got Instinct when the software was still very new. I was so excited about what I saw and had always dreamed of using technology to solve some of the major problems we were experiencing in veterinary medicine. Caleb was also a classmate of mine, and I knew that if he was in charge, we would see great things to come!
What made you want to join the Instinct team?
I have always been extremely frustrated with the inefficiencies of medical record writing in veterinary medicine, and I asked Caleb if Instinct planned to create an EMR at some point. While I didn't get a straight answer then, I knew it would happen eventually. I wanted to contribute to this process and to helping veterinary professionals all over the world, and so in 2018, I reached out to Caleb to see if he would hire me! And here we are. 🙂
What is your favorite feature currently live in Instinct Treatment Plan or EMR?
Instinct's Patient Safety Warning System is by far my most favorite feature. It does so much for our users with the drug dose warnings already, and it will soon include route and frequency alerts, drug interaction warnings, and monitoring tools for vital signs. It's a constant work in progress, which means it will continue to grow and expand over time.
As veterinarians, we adhere to the medical profession's ethic of "Primum non nocere" (first, do no harm). Since the start of the pandemic, veterinary hospital caseloads have increased substantially, and teams are busier than ever. This leads to longer hours for staff, fewer staff members per patient, and exhaustion for the whole team, all of which translates to an increase in the severity and frequency of medical errors, which can have serious negative effects on patients.
Instinct's Patient Safety Warning System allows veterinary professionals to focus more on the patient, knowing there is a safety net in case an error is made. We want Instinct users to feel supported in every aspect of their job, especially when it comes to patient safety and well-being.
What upcoming Instinct feature are you most excited about?
I'm excited about the entire Instinct EMR—and contributing to the efficiency of veterinary medical record writing.
Curious about Instinct EMR (or any of our solutions)? Get in touch to schedule a demo.
If you could wave a magic wand and change one thing about veterinary medicine, what would it be?
I can't pick just one—I have three.
Pay veterinary technicians a lot more (potentially on production) and treat them like human nurses. They are such an essential part of what we do, and they should be both treated and paid better.
Create a way to seamlessly transfer medical records back and forth between veterinary hospitals and pet owners without repeated phone calls, hours of work, and multiple people.
Find a way to produce accurate and thorough medical records without the doctor having to spend hours writing them.
How would your parents describe what you do for a living?
Exactly the way I would: A veterinary oncologist who is also lucky enough to work for the most awesome, most cutting-edge veterinary software company.
If you could go back and give your 18-year-old self one piece of advice, what would it be?
Don't be a veterinarian. 🤪 I'm only partially serious about this. If we could solve those three pressing issues I mentioned before, I would definitely change my answer. And regardless, being a veterinarian led me to work for Instinct, which I love. If I hadn't become a veterinarian, I never would have had this amazing opportunity.
What underrated tool(s) are indispensable for your job?
Calipers! As an oncologist, I am always measuring everything. Calipers allow me to measure lymph nodes, tumors, and a variety of other lesions so that I can monitor my patients' response to treatment.
Tell us about your pets!
I have one dog, one cat, one bunny, and three chickens.
My dog is named Haley, and we estimate that she is about 11 years old. She is all black. I got her the first year of my residency with another dog named Luna, who unfortunately died of cancer just 2 months ago. Haley is the sweetest dog—she is very protective and acts like a watchdog even though she would never hurt anyone. She is great with my kids. She definitely misses her sister Luna, but she also loves being the only canine child.
My cat is named Meems, and she is 16 years old. She is black and white with a pink nose (my favorite feature of hers). I acquired her my second year of veterinary school when she came in off the streets of Philadelphia and was surrendered through the UPenn ER. My husband raised her at home when she was a kitten and would syringe feed her on his shoulder. She still loves sitting on people's shoulders.  
She has been with me through my entire veterinary career: vet school in Philadelphia, my internship in Minnesota, my residency in North Carolina, and now in Stamford, where I currently reside. She is the best cat ever, and she looks amazing for her age.
My bunny is named Panda Man, and we adopted him in 2020. He is black and white and gets along well with Haley and Meems.
We raised three chicks in the early days of the pandemic: Fluffer, Nutter, and Pecker. (Now that I am writing the names out, they seem ridiculous.) They are now fully grown and are awesome ladies who my husband adores (he takes care of them). They each lay an egg a day, which is great for our family (since we eat a lot of eggs).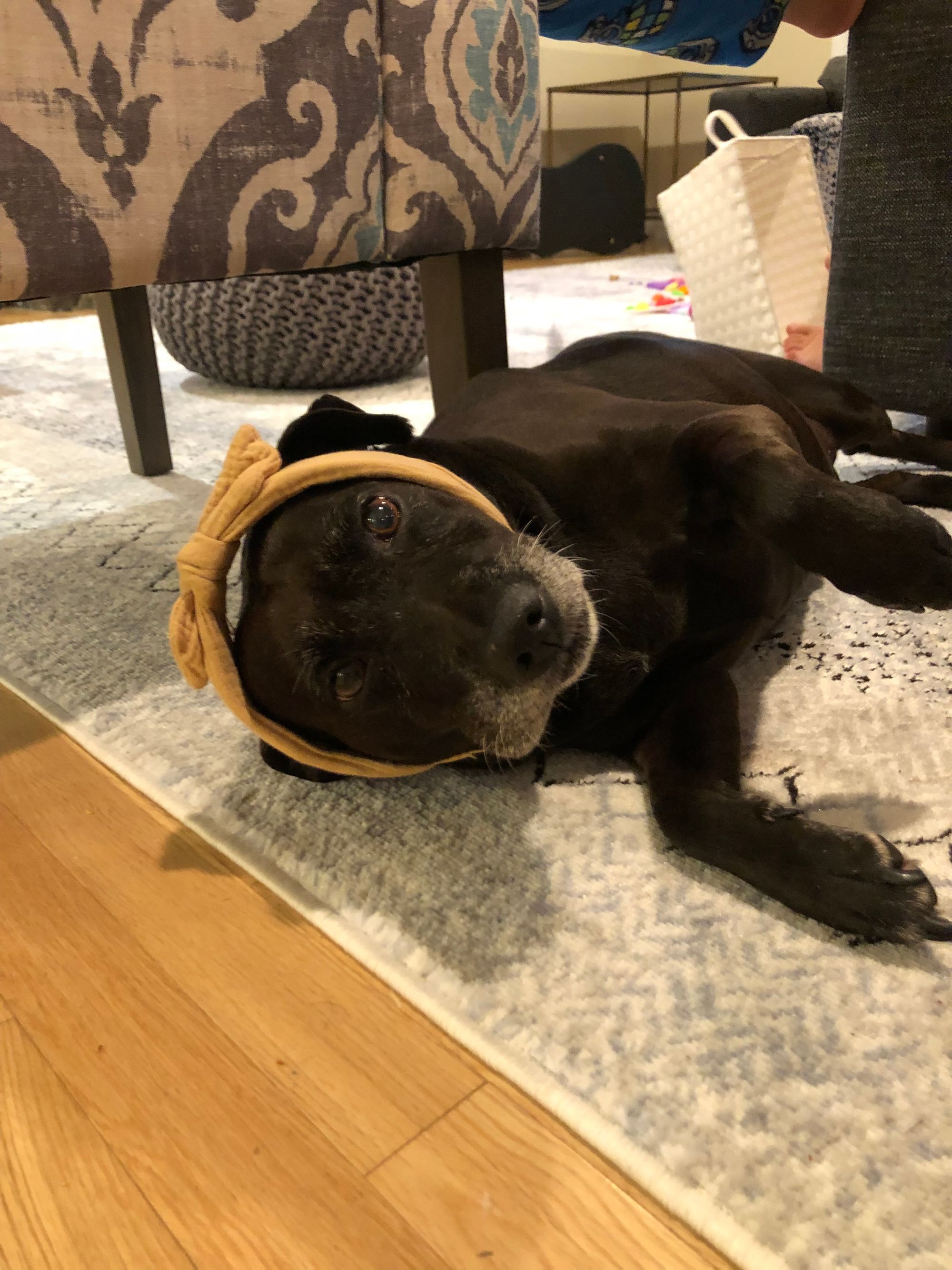 Time for a quick-fire round! ✨
Tell us some of your favorite things.
Favorite animal?
Any type of feline (including large ones)
Favorite Instinct swag?
My navy blue Instinct zip-up sweatshirt. I wear it every other day.
Favorite veterinary software or app, other than Instinct?
Plumb's
Favorite non-veterinary software or app?
Venmo (because I never carry cash) and Shazam (because I love music and always want to know the names of new songs I hear)
Favorite book/show/movie/album from the last year that we should check out?
Machine Gun Kelly's new album, Tickets to My Downfall
Favorite way to spend time?
With my kids, ideally outdoors in nature.
---
As you might imagine, we're pretty big fans of Dr. Lindsay here at Instinct—she keeps us all on the right path when it comes to ensuring that our software meets the ultimate goals of improving patient safety and veterinary team well-being.
Thanks for reading! Be sure to follow along for more in the coming months.