Welcome back to the Pick the Brain interview series! In these interviews, we get to know some of the (many) incredible people who make Instinct possible—from talented Instinct team members to passionate veterinary professionals using Instinct software in their hospitals.
Tell us a little bit about your veterinary and professional background!
I've spent nearly all of my working life in veterinary medicine.
After a (very) brief stint at America's favorite coffee and donut place, I took a job as a kennel attendant at Vestal Veterinary Hospital and 'paid my dues' scooping poop and running endless loads of laundry.
With my dues paid, I attended Alfred State College—one of the top 3 veterinary technician programs in the US.
On breaks between semesters, I participated in various veterinary internships. The coolest one was at Ross Park Zoo in Binghamton, NY, where I shadowed the zookeepers and learned how important zoos are to species survival and conservation.
My favorite encounters were with the big cats: There were 2 Amur leopards being target trained to take injections, and one of them loved tomatoes. He'd do just about anything for a whole raw tomato. I also met a new intake: a juvenile cougar brought in from a rescue situation in California. Imagine an angry feral cat, only 10x bigger and a heck of a lot louder. Her name was Zippy, and she's still there 12 years later! I go back to visit every year.
(Fun fact: Ross Park Zoo was opened in 1875, making it the fifth oldest zoo in the US.)
After graduating, I worked at Vestal for 7 more years as an LVT and spent a year in Cornell University's small animal ICU.
In 2018, I returned to my original hospital for a leadership role but struggled with burnout and moral and compassion fatigue. I decided to leave the veterinary clinic/hospital world entirely in 2020 when an opportunity arose at Instinct, and I've never been happier with a career move!
Where do you live?
A small town in south-central New York. I'm south of Syracuse and about 15 miles from the Pennsylvania border.
Where would you live if you could relocate anywhere in the world?
A Midwestern state that meets some important criteria:
Great for small-scale farming
Still has snow in the winter
Gets hot in the summer
Has little to no risk of natural disasters like earthquakes, flooding, or tornadoes
Does such a place even exist? Seems impossible. 😆 But if you know, please share!
What was your dream job as a child?
I always wanted to do something animal-related. At first, it was 'veterinarian' because that was the only job title I was aware of.
I had a great high school guidance counselor who helped me research roles within the industry. And I decided on veterinary technology because I was more interested in animal nursing care than animal doctoring.
How did you first learn about and connect with Instinct?
Eric, our director of hospital support, was an LVT at the practice where I worked right out of college. Years after he left to pursue other career opportunities, we reconnected on Linkedin. He shared a Pick the Brain article by Caleb (The Bizarre Busyness of Veterinary Hospitals) that caught my eye. Then, when he posted a job listing for Instinct a couple of weeks later, I quickly followed up. The rest is history!
How long have you been working at Instinct?
Just over a year! I started in October of 2020.
What is your favorite feature currently live in Instinct Treatment Plan or EMR?
Everything in ITP and EMR has exceeded my expectations after years of using other archaic and subpar PIMS that weren't built with veterinary nurses and practitioners in mind.
One thing I really geek out over is that Instinct connects to Plumb's Veterinary Drugs. To have that vital resource available on-demand is invaluable! The number of hours I've wasted chasing the little red book around the hospital is dreadful to think about.
Curious about Instinct EMR (or any of our solutions)? Get in touch to schedule a demo.
What future Instinct feature are you most excited about?
Anesthesia Mode, for sure. It's going to be a game-changer. I've always recorded monitoring for my anesthetic patients on paper or clumsy spreadsheet-style forms, and I've always wanted a quicker, simpler alternative. Something that'd allow me to spend more time looking at my patient than at a computer screen.
Instinct's Anesthesia mode has all the typical monitoring necessities in an easy-to-navigate format that will do just that.
And it goes a step further with features like the mini treatment sheet at the bottom. When you're mid-procedure, you can easily record intra-operative medication doses like antibiotics, pain medications, or sedative/reversal agents.
No more having to write in a margin, invent your own recording space, switch back to an entirely different treatment sheet, or jot down a sticky note (that'll inevitably get lost in your pocket).
Like I said—game-changer.
What is your favorite Instinct swag?
I have Instinct stickers stuck in odd places around my house, but that sweatshirt… there's just nothing like it. It's so cozy! I have to be careful because if I happen to take it off and leave it on the bed or the couch, my cat immediately usurps it.
What is your favorite veterinary software or app other than Instinct?
I love the ASPCA's APCC app for a quick toxicity reference.
I also have a mild obsession with keeping my pet's medical records accessible, so in addition to paper and computer-saved copies, I use the PetConnect app to keep photos of their records handy on my phone.
How about non-veterinary software or app?
Facebook and Instagram. Mostly so I can share veterinary posts and memes with everyone I know. 😁
What is one book/TV show/movie/album from the last year that we should check out?
Big Sky on ABC. I'm a shameless crime drama buff.
What do you like to do outside of work?
I'm an aspiring small-scale hobby homesteader. I love gardening. While this year's efforts were pretty lame, I have grand plans for next year.
We have half a dozen chickens and a few raised veggie and herb garden beds. Next year, we're hoping to get a few goats and a few large in-ground garden beds for corn and garlic.
Where can we find you online? [If you have a public professional or social media presence and would like connections!]
What is your favorite animal?
If we're talking house pets, I'm 100% a dog person.
If we're talking animals at large, I'm conflicted between red pandas and capybaras. How can I choose between an aggressive teddy bear and a guinea pig that's the size of a dog??
What is the coolest animal you've ever interacted with personally?
A binturong! I met Benny the binturong back in my zoo internship days. I think they're terrifyingly cool, with their scruffy manes and golden-brown eyes.
Tell us about your pets!
The oldest, Smokey, is a 13-year-old bluetick coonhound. He's a soft soul and a couch potato—unless there's a raccoon within smelling distance.
Daisy is a 10-year-old boxer mix and an absolute spoiled princess who will guard the house against the garbage truck but is afraid of cats.
Logan is a 6-year-old domestic long hair who followed me home from the parking lot to my apartment one night long ago. He's an excellent mouser and likes to parade his catches around the house.
Teenie is a stubborn, chaotic, overexcited 4-year-old coonhound/whippet shelter dog who has all the energy and drive of those breeds but none of the sense.
Mina is a 2-year-old Malinois mix shelter dog who is usually smart enough to stay out of trouble and always cute enough to get away with it.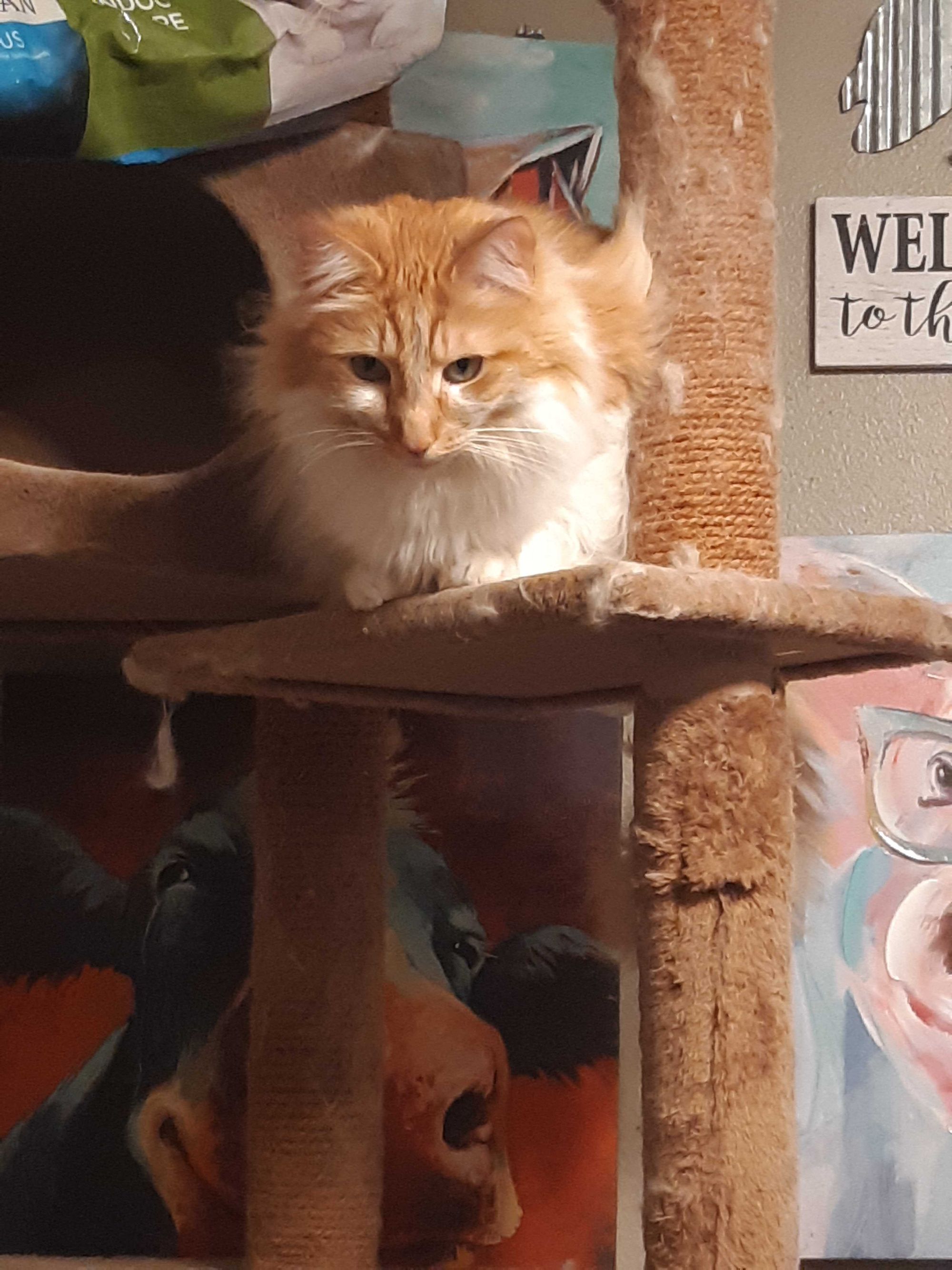 If you could wave a magic wand and change one thing about veterinary medicine, what would it be?
For every practice owner and practice manager to magically be universally empathetic, fair, and compassionate toward all their staff. The fallout from poor practice management is probably the biggest contributor to vet tech burnout and employee turnover in hospitals and clinics.
How would your parents describe what you do for a living?
Of my Instinct position, they'd say, "A lot of computer stuff I never thought I'd see her doing."
But regarding veterinary medicine at large, my mother once described it as "nursing care for animals, and sometimes getting them drunk" because one time I told her about an ethylene glycol dog who I'd set up with an ethanol CRI.
If you could go back and give your 18-year-old self one piece of advice, what would it be?
Know what you need and deserve and ask for it. This includes employment.
If you can't meet your basic needs because your hours, pay, or benefits aren't sufficient, it's ok to ask for better—in fact, it's imperative.
If asking isn't enough, demand it.
If demanding isn't enough, you deserve better and should move on to a situation that will fairly meet your needs.
Leaving a bad situation doesn't make you a quitter. And you're allowed to be selfish when it comes to providing for your wellbeing.
What is a common myth about your job or field of expertise?
That being an educated and credentialed veterinary technician/nurse is somehow less respectable than being a human nurse.
The educational focus and the licensing requirements are similar, and the kind of work we do is the same. Having different species of focus shouldn't automatically lose us the respect we deserve.
What underrated tool(s) are indispensable for your job?
For my job as a vet tech, it was scrub pants with a combo elastic and tie waistband and a thigh cargo pocket.
For my job with Instinct, it's a desk with a sit-to-stand top—game-changer.
---
Thanks for reading! Be sure to follow along for more installments of our interview series in the coming months.
Think your hospital might be a good fit for Instinct EMR (or any of our solutions)? Request your demo today.